Marc Jacobs Beauty Products- REVIEW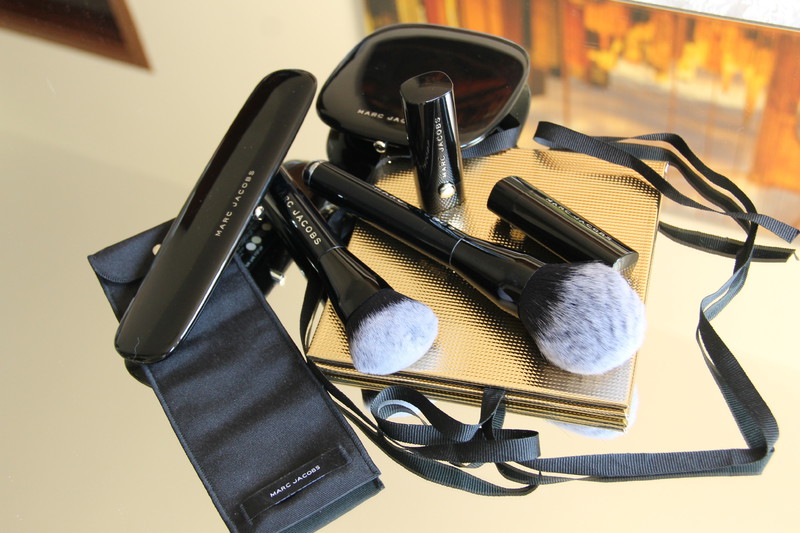 Hi my Butterflycats
I've decided to review some of Marc Jacobs beauty products. They are so amazing and I hope that some of you will like them too. So let's get started…
THE BRONZE - BRONZER BRUSH
Claim: Bronzer Brush Feather-soft and extra large, the Bronze Bronzer Brush has an innovative, extra wide design that perfectly pairs with O!Mega Bronze. This luxurious, generously sized brush was designed for fast application and instant bronzing gratification.
ME: I love this brush so much!!!It's so soft and so luxurious. It's probably the largest, fluffiest brush I have. I've never tried such a soft brush before. The Bronzer Brush is extra large with rounded and tapered bristles. Although the bristles are white at the end and black at the base, this isn't a duo-fibre brush. The quality is perfect. The brush was designed to be used with Marc Jacobs' own O!Mega Bronze bronzer, but I use it for overall bronzing or as a powder brush. I use it with my finishing powder and it just feels so soft and the final result is beautiful. It is not meant for precision work such as contouring. It applies powder smoothly and not too densely. You get with this brush a light application that can be built up with layers. This is an expensive brush, but it's extremely high-quality and luxurious. You get what you pay for. So if you're going to splurge, this brush is absolutely worth investing in because it does not lose hair,it is quite versatile, the bristels are made of feathery soft synthetic, antibacterial hair.
THE FACE I BRUSH
Claim: This innovative, smartly angled brush design lets you sculpt your foundation into a perfectly flawless finish. The Face II enhances the application and finish of Perfection Powder, but can also be used with liquid and mousse foundations.
ME: This brush is incredibily soft. I use it to apply my liquid foundation, it's so dense, soft, and doesn't soak up too much product. It applies my foundation evenly without any streaks. It blends so good and it's great also for the small areas around your nose and under the eye. I've had this brush for over a year and haven't noticed any shedding. The quality is perfect.
LIPSTICKS:
Claim: Irresistible feel. Kissable color. Habit-forming. Fall in love with gellified lipstick. Silky and creamy, full of color-saturated, pure pigments, this long-wear lipstick has a texture so irresistible, it tempts you to touch. With a sleek shine finish, the multitasking lip gel hydrates and moisturizes delicate lips. Subtly scented with vanilla, Lovemarc will be your new object of desire.
name: 128 Seduce me Lip Gel LoveMarc
name: 112 Severine Lip Gel LoveMarc
ME: Of all Marc Jacobs Beauty products I've tried, these lipsticks didn't make me say wowww. These Lip Gel Love Marc lipsticks are not bad but they definitely aren't worth the money. They glide on easily and are pretty creamy but they don't last and the color sorta fades. For that price it didn't do anything extraordinary. I wouldn't re-purchase. I do like the magnetic packaging tube. With lipliner it was patchy; without it it feathered and eventually sank into my lip creases in ugly stripes.
PALETTE THE LOLITA
Claim: Instant color. Pure performance. Luxurious textures. A sleek and skinny design of seven harmonized eyeshadows will make each Style Eye-Con No. 7 your new beauty essential. Each palette of shimmery metallics, buttery mattes, and lustrous sheens are made with advanced pigments that allow true, instant color payoff, and plush performance with the longest wear. These sets invite you to play and to become your own style icon.
ME: This is my go to palette when I travel. The packaging is chic, elegant and has a sleek design. The palette is in such a unique shape and it comes with a mini bag. It has also a plastic piece to keep shadow fallout off the mirror. This nude pallete comes in 7 eye shadows: matte off-white cream, matte nude, matte dark coffee brown, metallic warm pink with iridescent glitter, iridescent champagne pink sheen, light peach sheen, rosy copper sheen. The first three have amazing pigmentation and a velvety smooth texture. The last three shadows are incredibly smooth and have wonderful color payoff. I love their silky texture and luminous finish. The middle glittery shade has a lot of fallout and it's really sparkly! Whenever I use it, I have to wet my brush with setting spray. All shadows are highly pigmented and creamy. They apply and blend so easily! It's a nice mixture of finishes - matte, shimmer and satin. You can use this palette to transform your look from day to night.
O!MEGA BRONZE - PERFECT TAN
Claim: Bigger. Bronzer. Better. This super-sized bronzer instantly and universally beautifies with the touch of a brush. Micro-fine, jet-milled powder blends seamlessly for a flawless, radiant-matte finish.
ME: This bronzer was my first Marc Jacobs product! I've heard so many good things about this bronzer that I've decided to purchase it. And now, after using it for a long time, I can confirm you that is really amazing. I like it because it doesn't have an orange undertone; it gives you a beautiful natural bronze, it's also good to contour and it lasts all day long. It's one of those bronzer colors-not too orange or red or brown; it's just right. Perfect match of cold and warm color undertones. The swatch is super natural, there is no shimmer. It gives a beautiful radiant matte finish and is super smooth! You can use it not only on your face but also in your body. The packaging is beautiful, sleek and elegant. It has a huge mirror which is 
always a big plus if you travel. The quality of this product is wonderful, it gives nice buildable color and looks very natural. Marc Jacobs Beauty products are high end products and they are on the pricey side. If you search a high end bronzer, then this product is for you and it's worth the money.

Ciao miei Butterflycats
Ho deciso di fare la recensione di alcuni prodotti di bellezza Marc Jacobs. Sono veramente incredibili e spero che alcuni di voi li apprezzeranno. Iniziamo...
THE BRONZE
Mark Jacobs Beauty: Bronzer Brush Soffice come una piuma ed extra large, il penello Bronzer Brush ha un design innovativo, è più grande e si abbina perfettamente con O! Mega bronzer. Questo lussuoso pennello di grandi dimensioni è stato progettato per un'applicazione veloce e un effetto abbronzante gratificante ed immediato.
IO: Amo questo pennello!!! È così morbido e così lussuoso. È probabilmente il più grande e morbido pennello che ho. Non ne ho mai provato uno così morbido prima. Il Bronzer Brush è extra large con le setole arrotondate e affusolate. Anche se le setole sono bianche alla fine e nere alla base, non è a doppia fibra. La qualità di questo pennello è perfetta. E' stato progettato per essere utilizzato con Marc Jacobs O! Mega Bronze bronzer ma io lo uso a volte per abbronzare tutto il viso o per applicare il fondotinta in polvere. Lo uso anche con la mia cipria e il risultato finale è bellissimo. Non è pensato per lavori di precisione come contouring. Permette di applicare i prodotti in polvere senza intoppi e non troppo densamente. Con questo pennello si riesce ad applicare il prodotto in modo leggero, volendo anche a strati. Si tratta di un pennello costoso, ma è veramente di altissima qualità e quei soldi li vale tutti. Quindi, se avete intenzione di spendere, questo pennello è un investimento assolutamente valido in quanto non perde le setole, è abbastanza versatile, le setole sono sintetiche ma morbide e antibatteriche.
THE FACE I

Mark Jacobs Beauty: Il design innovativo e intelligente di questo pennello angolato consente di applicare il vostro fondotinta in modo omogeneo e assolutamente impeccabile. Face Brush migliora l'applicazione di fondotinta e cipria in polvere, ma può essere utilizzato anche con prodotti liquidi e mousse.
IO: Questo pennello è incredibilmente morbido. Io lo uso per applicare il mio fondotinta liquido, è così denso, morbido, e non assorbire troppo il prodotto. Applica il fondotinta in modo uniforme senza striature. Si fonde così bene anche nelle piccole aree intorno al naso e sotto gli occhi. Uso questo pennello da più di un anno e non l'ho mai visto perdere una setola. La qualità è davvero perfetta.
LOVE MARC
 ROSSETTO GEL
Mark Jacobs Beauty: Irresistible feel. Kissable color. Habit-forming. Innamorati del rossetto gellified. Setoso e cremoso, dai colori puri e intensi, questo rossetto a lunga durata ha una consistenza così irresistibile che viene voglia di toccarlo. Con una finitura lucida idrata le labbra delicate. Leggermente profumato alla vaniglia, Lovemarc sarà il tuo nuovo oggetto del desiderio.
Nome: 128 Seduce me Lip Gel LoveMarc
Nome: 112 Severine Lip Gel LoveMarc
IO: Di tutti i prodotti Marc Jacobs che ho provato questi rossetti non mi hanno fatto dire wowww. I rossetti Lip Gel Love Marc non sono male, ma non valgono decisamente i soldi spesi. Scivolano facilmente sulle labbra e sono abbastanza cremosi, ma non durano molto e il colore va via. Per quel prezzo non hanno fatto nulla di straordinario. Non li riacquisterei. Mi piace la confezione magnetica. Anche con il lipliner non andava molto bene; senza, va nelle pieghe delle labbra creando brutte righe.
PALETTE THE LOLITA
Mark Jacobs Beauty: Colore istantaneo. Prestazioni pure. Texture di lusso. Il design elegante e sottile di questi sette ombretti armonizzati farà di Eye-Con No. 7 lo strumento essenziale per la tua bellezza. Ogni palette dalle tonalità metallizzate scintillanti, mat cremose e perlate iridescenti, è realizzata con pigmenti avanzati per un colore intenso e a lunga durata. Questi set ti invitano a sperimentare e diventare la tua stessa icona di stile.
IO: Questa è la mia palette preferita quando viaggio. La confezione è veramente chic e ha un design elegante. La palette ha una forma originale e viene fornita con una mini bag. Inoltre contiene un seoparatore di plastica per evitare che la polvere degli ombretti finisca sullo specchio. Questa palette nude contiene 7 ombretti: vaniglia opaco, nocciola opaco, caffè opaco, nude rosato con glitter iridescente, rosa champagne perlato-metallizzato, Light Peach perlato-metallizzato, rame metallizzato. I primi tre ombretti hanno una incredibile pigmentazione ed una consistenza liscia e vellutata. Gli ultimi tre sono incredibilmente lisci e fanno un effetto meraviglioso. Adoro la loro consistenza setosa e l'incredibile luminosità che hanno. L'ombretto rosato con i glitter ha un sacco di ricaduta ed è davvero scintillante! Ogni volta che lo applico devo inumidire il mio pennello per non farlo "svolazzare". Tutti gli ombretti sono altamente pigmentati e cremosi. Si applicano e si fondono così facilmente! E' un bel mix di effetti - opaco, glitter e metallizzato. È possibile utilizzare questa palette per trasformare il vostro look dal giorno alla notte.
O! MEGA BRONZE
- CIPRIA ABBRONZANTE
Mark Jacobs Beauty: Bigger. Bronzer. Better. Questo bronzer di grandi dimensioni abbellisce istantaneamente e universalmente con il tocco di un pennello. La finissima micro-polvere si fonde perfettamente per un fantastico makeup luminoso-opaco.
IO: Questo bronzer è stato il mio primo prodotto Marc Jacobs! Ho sentito tante cose positive su questo bronzer e ho deciso di acquistarlo. E ora, dopo averlo provato per un lungo periodo, posso confermare che è veramente sorprendente. Mi piace perché non ha il sottotono arancione; dona un bel colore bronzato naturale, va bene per fare il contouring e dura tutto il giorno. È uno di quei colori bronzer - non troppo arancione o rosso o marrone; è giusto. Un equilibrio perfetto di sfumature di colori freddi e caldi. Il colore è super naturale, non lucido. Crea un bell'effetto opaco ed è super liscio! È possibile utilizzarlo non solo sul viso, ma anche sul corpo. La confezione è bella, elegante e raffinata. Ha un enorme specchio che è sempre un grande vantaggio quando si viaggia. La qualità di questo prodotto è meravigliosa, il colore si applica con facilità e si può stratificare, ha un effetto molto naturale ed è opaco. I prodotti di belezza Marc Jacobs sono di fascia alta e sono un po' più cari. Se cerchi un bronzer di fascia alta, allora è questo il prodotto giusto per te. E ne vale la pena.