My TOP 10 current MAKE UP products!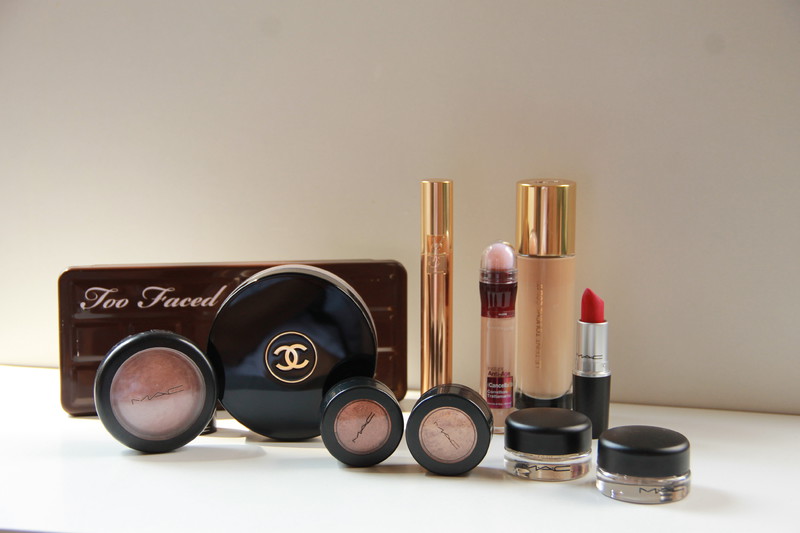 1. MAC PRO LONGWEAR PAINT POT- in SOFT OCHRE
This was one of my first MAC purchases and since then I use it every day. Use this product as the base / primer before putting eye shadow powder. I love this product for two reasons. The first is that this product makes your eye shadow in the evening look the same as in the morning, when you've applied it. Forget those ugly lines of eye shadow in the crease of the eyes. Even with the high temperatures of the summer, your eyeshadow won't melt after many hours on and it will still be perfect. The other reason why I like this product is the shade soft ocher. If you have dark or red eyelid, or have many small veins or discolorations, this product will neutralize the color of your eyelid and the colors of eye shadow applied above will become more vivid and more pigmented. You can put any color on. Its consistency is thick and creamy. This product will last you a lot. I've used it every day for years and it's definitely one of my top products.
2. MAC PRO LONGWEAR PAINT POT- in TAILOR GREY
This tailor gray paint pot can be can used as the base for the dark eye shadows or even alone. Your smokey eyes will be perfect. Besides using it in these ways... I use it mainly for filling my eyebrows and to define their shape. This is a longwear product and you don't have to be afraid that it will crease during the day. This color is perfect for blondes. Use a very little amount of the product with an angle brush, and your eyebrows will be perfect.
3. YSL LE TEINT TOUCHE ECLAT FOUNDATION- in BD 10
This foundation is absolutely wonderful. It is completely natural and very light. You barely can feel it on your skin. The coverage is light to medium. I use it on a daily basis and even though I have a sensitive skin this foundation doesn't cause me any irritation, as happened with other foundations in the past. It smells great and not annoying. The result you get with this foundation is a natural, radiant, glowy skin but not shiny. It is easily applied and I can say that it's definitely the best foundation I've ever used. It's important that it has a protection factor SPF19. The other reason why I recommend this foundation is that it's parabens, sulfates, Petrochemicals, Phthalates, GMOs, Triclosane free.
4. CHANEL SOLEIL TAN- BROZING MAKE UP BASE
OMG!!! This product looks super natural on the skin!!! This bronzer is a velvety cream and it's absolutely my favorite bronzer. It is so natural that it is difficult to explain. I apply it with a two fibers brush and it melts with your skin, and when applied it looks like you have a beautiful tan. If you like the glowing skin then you will love this product. It's not heavy on the skin, it blends and applies easily. In the container, perhaps, the color may seem too dark but on your skin it fits perfectly your complexion. I have very fair skin and is perfect for me. The skin looks luminous and radiant. If you want a stronger contouring, you can "build" the color of this product. It is expensive but will last very long. In this case the quality is justified by the price.
5. TOO FACED CHOCOLATE BAR
I love this palette. It's perfect for smokey eyes, for a natural makeup, a colorful, a golden one... It's a perfect palette! Besides having all the colors you need to create all these different looks, it smells divinely!!! Yes yes yes, you read right... It smells like chocolate! When you open it you can smell chocolate because these eyeshadows are made with 100% natural cocoa powder. There are 16 matte, shimmer and glitter eye shadows. It's important to know that this product is without parabens, sulfates and phthalates. Well, I admit... Sometimes I open it several times a day just to sniff it☺ However it has been proven scientifically that the cocoa scent powder enhances memory ;-) This palette is also perfect for travelling because the packaging is rigid and you won't have to be afraid that it's damaged in the suitcase. The colors are pigmented, luminous, the texture is silky and it blends smoothly. Lately I often do the golden –bronze makeup look and this palette has all the colors I need. I use a Salted Caramel in the crease, Semi Sweet outward corner, Hazelnut along the lower lashes, Creme Brulee on the eyelid and under the eyebrows White Choccolate.
6. MAC ELECTRIC COOL EYE SHADOW- in GILDED THRILL, in COIL
Do you ever have to be ready in 5 minutes and get out?! It happens to everyone... And then you don't have time to play with eye shadows and brushes. This is the right product for all those who want to have a perfect eye makeup in less than 1 min. This eye shadow can be applied with your fingers. Its texture is creamy and velvety. The pigmentation is fantastic and the finish is a mix of shimmer glittered, almost metallic. It applies and blends easily. As I told you I prefer to apply it with my fingers. It's the only product which I don't use with a brush, because the result is better when you use just your fingers. They also last long without the primer. My favorite colors are Gilded Thrill (golden) and Coil (bronze).
7. MAYBELLINE ISTANT ANTI AGE CONCEALER- in LIGHT
This concealer couldn't miss in my "top 10" list. I have already spoken about this product in one of my previous posts. Despite its affordable price, it is good just as high-end products. I find it amazing and I keep purchaising it, again and again. If you want to read the full review click here.
8. MAC MINERALIZE BLUSH- in WARM SOUL
This blush is gorgeous. It applies perfectly with the brush and it gives you a natural look and luminosity. When you don't know which blush to choose, with this you can't go wrong. It fits to different complexions. The finish is slightly shimmer but not glittery. It blends easily and the effect is "sun-kissed", bronze color, golden finish, perfect for everyday use. You can really use it with all make-up looks ... with a minimal look with a little mascara and lip gloss, but also with bronze makeup, with a smokey... It's always good.
9. YSL MASCARA VOLUME EFFECT FAUX CILS
If you want a high-end mascara and you want big volume lashes, this is a great mascara. The texture is smooth and soft. The effect is fantastic, very voluminous lashes. This mascara makes your lashes longer, but not as much as it makes them voluminous. The scent is very pleasant. It makes no clumps and the only "flaw" is that it dries quickly. It does not fade during the day and can be easily removed.
10. MAC LIPSTICK- in ALL FIRED UP (retro matte)
Definitely the MAC lipsticks are among my favorites. I really like this color, it's a mix of red and pink. The color is perfect during all seasons of the year and is perfect for all skin tones. The finish is retro matte, so before you apply the matte lipsticks you have to moisturize your lips first with a lip balm or with a Prep + Prime Lip Mac, remove excess, then put the lip pencil and lipstick. The matte finish is my absolute favorite, however, pay attention to the hydration of your lips because otherwise matte lipsticks can make your lips very dry.

1. MAC PRO LONGWEAR PAINT POT- in SOFT OCHRE
Questo era uno dei miei primi acquisti MAC e da allora lo uso sempre tutti i giorni. Uso questo prodotto come base/primer prima di mettere l'ombretto in polvere. Adoro questo prodotto per due motivi. Il primo è che questo prodotto fa sì che il vostro ombretto alla sera abbia lo stesso aspetto di quando lo avete applicato la mattina. Dimenticate quelle brutte righe di ombretto nelle pieghe degli occhi. Anche con altissime temperature durante l'estate il vostro ombretto non si "scioglierà" e sarà ancora perfetto dopo tantissime ore. L'altro motivo per cui mi piace questo prodotto invece è il colore soft ochre. Se avete la palpebra scura, o rossa, o avete tante piccole vene, questo prodotto uniformerà e neutralizzerà il colore della vostra palpebra ed i colori degli ombretti applicati sopra risulteranno più intensi ed omogenei. Sopra potete mettere qualsiasi colore. La sua consistenza è densa e cremosa. Il prodotto vi durerà tantissimo. Io lo uso quotidianamente ed è sicuramente da anni il mio prodotto top.
2. MAC PRO LONGWEAR PAINT POT- in TAILOR GREY
Questo paint pot in tailor grey lo potete usare come base per gli ombretti scuri, oppure anche da solo. I vostri smokey eyes saranno perfetti. Oltre usarlo in questi modi… io lo uso principalmente per le mie sopracciglia al posto della matita per riempire le zone più chiare e per definire la loro forma. Essendo un prodotto a lunga durata, non dovete aver paura che il prodotto sbavi durante il giorno. Questo colore è perfetto per le ragazze bionde. Usate pochissimo prodotto con un pennellino angolare e le vostre sopracciglia saranno perfette.
3. YSL LE TEINT TOUCHE ECLAT FOUNDATION- in BD 10
Questo fondotinta è assolutamente meraviglioso. È completamente naturale e molto leggero, non lo sentite sulla pelle. La coprenza è leggero/media. Io lo uso quotidianamente e, nonostante abbia la pelle sensibile, non mi provoca irritazioni come magari in passato è successo con altri fondotinta. Il profumo è fantastico e non è fastidioso. Il risultato che ottenete con questo fondotinta è una pelle naturale, radiante, luminosa ma non lucida. Si applica facilmente e posso dire che è sicuramente il miglior fondotinta che abbia mai usato. L'altra cosa importante è che ha il fattore di protezione SPF19, e poi consiglio questo fondotinta anche perché è senza parabeni, sulfati, petrolchimici, ftalati, OGM, triclosan.
4. CHANEL SOLEIL TAN- BROZING MAKE UP BASE
Wow!!! Questo prodotto sembra super naturale sulla pelle!!! Questo bronzer è in crema vellutata ed è assolutamente il mio bronzer preferito. È così naturale che è difficile da spiegare. Io lo applico con un pennello a due fibre ed una volta applicato si fonde con la vostra pelle e sembra che abbiate una bellissima abbronzatura. Se vi piace una pelle luminosa allora questo prodotto vi piacerà. Non appesantisce la pelle, si sfuma e si applica facilmente. Nel contenitore, forse, il colore vi potrà sembrare scuro, ma sulla pelle si adatta perfettamente alla vostra carnagione. Io ho la pelle molto chiara ed è perfetto. La pelle risulta luminosa e raggiante. Se alla sera volete un contouring più deciso il colore di questo prodotto si può "costruire". È un prodotto costoso ma vi durerà veramente a lungo. In questo caso la qualità è giustificata dal prezzo.
5. TOO FACED CHOCOLATE BAR
Adoro questa palette. È perfetta per i smokey eyes, per un trucco naturale, colorato, dorato… una palette perfetta. Ma vi chiederete sicuramente il perché... Oltre ad avere tutti i colori che vi servono per creare i vari look come ho appena detto, profuma divinamente!!! Sì sì sì avete letto bene… profuma come il cioccolato. Quando la aprite sentite il profumo di cioccolato perché gli ombretti sono fatti con il 100% polvere naturale di cacao. Ci sono 16 ombretti matte, shimmer e glitterati. Importate è sapere che questo prodotto è senza parabeni, sulfati e ftalati. Comunque lo ammetto… a volte la apro più volte al giorno solo per annusarla ☺ Comunque è stato dimostrato scientificamente che il profumo cocoa powder aumenta la memoria ;-) quindi non fa che bene… Questa palette è perfetta anche per i viaggi, perché la confezione è rigidissima e non dovete aver paura che si distrugga nella valigia. I colori sono pigmentati, luminosi e definiti, la texture è setosa e si sfumano senza problemi. Ultimamente spesso faccio il trucco bronzo-dorato e questa palette ha tutti i colori che mi servono. Uso Salted Caramel nella piega dell'occhio, Semi Sweet nell'angolo esteriore, Hazelnut lungo le ciglia inferiori, Creme Brulee sulla palpebra mobile e White Chocolate sotto le sopracciglia.
6. MAC ELECTRIC COOL EYE SHADOW- in GILDED THRILL, in COIL
Vi capita mai di dovervi preparare in 5 minuti ed uscire?! Capita a tutti… e quindi non avete tempo per giocare con gli ombretti e sfumarli con il pennello. Questo è il prodotto adatto per tutti quelli che vogliono avere il trucco sugli occhi perfetto in meno di 1 minuto. Questo ombretto lo potete applicare direttamente con le dita. La sua texture è cremosa e vellutata. La pigmentazione è fantastica e scrivono molto bene. Il finish è un mix di shimmer glitterato quasi metallizzato. Si applica e si sfuma facilmente. Come vi ho detto, io preferisco applicarlo con le dita. Forse è l'unico prodotto per cui non uso il pennello, perché il risultato è migliore e dura a lungo anche senza il primer. I miei colori preferiti sono Gilded Thrill (dorato) e Coil (bronzo).
7. MAYBELLINE ISTANT ANTI AGE CONCEALER- in LIGHT
Questo correttore non poteva mancare nella mia lista "top 10". Ho già parlato di questo prodotto in un precedente post. Nonostante sia un prodotto a prezzo accessibile non ha nulla da invidiare quelli di fascia alta. Lo trovo fantastico e continuo a riacquistarlo. Se volete leggere la review completa cliccate qui.
8. MAC MINERALIZE BLUSH- in WARM SOUL
Questo blush è stupendo. Si applica perfettamente con il pennello e vi dà un look naturale e luminoso. Quando non sapete quale blush scegliere, con questo non potete sbagliare. Si adatta alle diverse carnagioni. Il finish è leggermente shimmer ma non glitteroso. Si sfuma facilmente e l'effetto è "baciati dal sole", color bronzo, pesca dorato, perfetto per l'uso quotidiano. Potete usarlo veramente con tutti i tipi di trucco…sia con un look minimal con un po' di mascara e un lucidalabbra, sia con un trucco bronzo, con uno smokey… insomma, va sempre benissimo.
9. YSL MASCARA VOLUME EFFECT FAUX CILS
Se cercate un mascara di fascia alta e volete tanto volume questo è un ottimo mascara. La texture è fluida e morbida. L'effetto è fantastico, rende le ciglia molto voluminose. Le allunga anche, ma non così tanto quanto vi dà volume. Il profumo è molto gradevole e non fa i grumi; l'unica "pecca" è che si secca velocemente. Non cola durante il giorno e si strucca facilmente.
10. MAC LIPSTICK- in ALL FIRED UP (retro matte)
Sicuramente i rossetti mac sono tra i miei preferiti. Ma in questo periodo mi piace moltissimo questo colore, un mix tra il rosso e il pink. Un colore che va benissimo durante tutto l'anno e sta benissimo a tutte le carnagioni. Il finish è retro matte, quindi prima di applicare i rossetti matte bisogna idratare le labbra con un burro cacao oppure con il Prep + Prime Lip di Mac, togliere l'eccesso, mettere la matita e poi il rossetto. Il finish opaco è in assoluto il mio preferito, però attenzione all'idratazione delle labbra perché altrimenti il rossetto matte può renderle molto secche.