My night skincare routine
Main steps and products review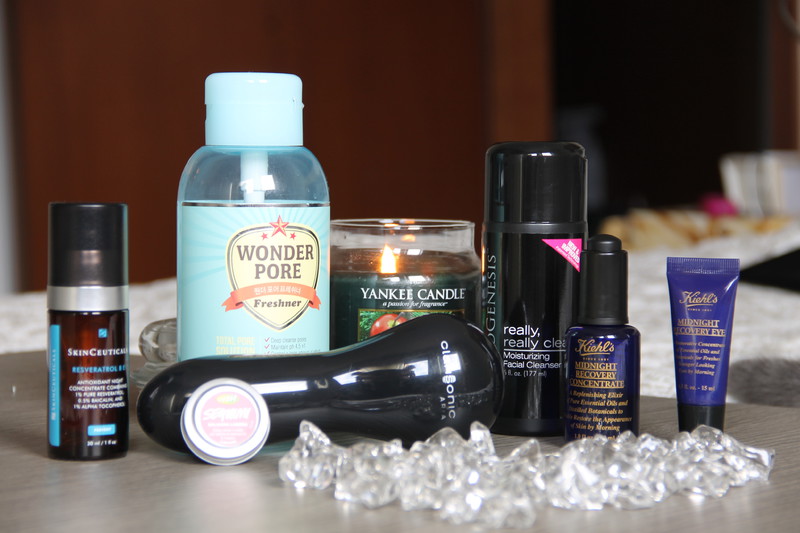 Hi my Butterflaycats
A beautiful skin is the result of many factors: diet, hydration, stress level, genetics, hormones, health, lifestyle, habits… Our skin will reflect the results of all these factors. We often hear that beauty comes from the inside... well, it's true. Our skin is the indicator of our health and habits. You may think that this is too complicated... Don't worry, it's not. A few tricks, everyday perseverance and the right skincare products will help you make a big difference. I've tried many different products and steps over the years and here is the way that works for me. First of all you need to understand your skin type to choose the products that works for your skin. In this winter period my skin is normal to dry and also sensitive.
This is my current night skincare routine for the past 4 months and these are the steps:
REMOVING MAKEUP
Before using any product to remove my make-up, I wash my face with lukewarm water. Then, with my fingers, I gently rub my lashes to partially remove mascara - at this point, you'll look like a panda. ☺ I do so to avoid damaging my eyelashes as rubbing my eyes only with make-up remover would. I soak Bioderma make-up removing micelle solution on my cotton pads to remove my make-up. I use the first cotton pad for my eyes and the second one for my face. At the end I wash my face again with lukewarm water. I always like to make sure there is not any trace left on my face before I cleanse it. Bioderma Sensibio H2O make-up removing micelle solution is dedicated to sensitive skin and it's amazing!!! It can lift your make-up from your skin easily, with no tugging or scrubbing. It cleans off every trace of make-up and it's not sticky or oily at all. It's just like wiping with water and it has no fragrance. I've been using it for 3 years and I can assure you that's the best I've tried (and I've tried many)! My eyes are so sensitive that any other eye make-up removers always burned my eyes (even those for sensitive eyes).
CLEANSING
I use AminoGenesis Really Really Clean clenser with my Clarisonic. I love this cleanser because it's jelly-like and it doesn't dry my skin like other facial cleansers. It's perfect for any skin type. I love how clean and soft my skin feels after using it. My dermatologist made me discover this product and since then I use it every day. Aminogenesis Really, Really Clean clenser benefits: it leaves skin softer and smoother; it deep cleans pores
; it leaves skin with a radiant glow;
 skin feels refreshed and clean;
 it easily removes mascara and other make-up. Cleansing will remove dirt, make-up and bacteria that may cause breakouts from your skin. I work my cleanser in my hands and apply it on my wet face and neck. I clean my face using Clarisonic Aria for a minute, then rinse thoroughly with lukewarm water. Be sure not to scrub too vigorously or for too long. I pat dry my face with a clean soft towel (make sure that you have a towel just for your face in order to avoid bacteria). Clarisonic will also stimulate the blood circulation in your face, rejuvenating your skin to a healthy glow. I can confirm that Clarisonic is a holy grail type of product for me. I've noticed a big difference since I use it. It's an expensive product but it's worth it!
TONING/MISTING
After cleansing, I always use a toner on cotton pad and wipe gently to balance and put some moisture back into the skin. I use Etude House Wonder Pore Freshner. OMG this is an incredible product!!!! It's a pore care product that prevents and shrinks enlarged pores, firms skin, and eliminates harmful bacteria from forming under skin. My pores were at least half of their original size since I use it. It really does everything I just said. Benefits: it maintains ph 4.5 to within 1 ph; it refines skin tones; it keeps the elasticity of pores; it cleanses pores deeply; it minimizes the appearance of pores; it prevents large amounts of sebum (oil control); it moisturizes your skin inside and outside.
EYE CREAM
The skin around our eyes is much thinner than elsewhere on our bodies. So make sure to use the right product. Be gentle when applying the cream around your eye because the skin is very sensitive. Use your ring finger (because your ring finger has the lightest touch) and dab the cream under the eye to the cheekbone, at the outer corners, and underneath the brows. Tap until you feel it absorb and don't press too hard. I use Midnight Recovery Eye cream. It aids in elasticity the delicate skin around the eye area and helps with fine lines. This cream's consistency is thick, perfect for the night, yet still easy to apply. It will give you fresher, younger looking eyes by morning by reducing puffiness, fine lines and wrinkles. It's paraben-free, fragrance-free, mineral oil-free. I've noticed a fantastic glow on my eyes in the morning. It makes a serious difference. It makes my eye area brighter, glowing, more awake looking, and actually diminishes the appearance of dark circles!
SERUM
This is a super important step. A serum acts on very specific problems that your normal moisturizer can't. Usually people think serums are used by older women whose primary concern is wrinkles, but many serums are more than just wrinkle treatments - many have hydrating, whitening, oil-controlling, brightening, skin discoloration, firming, etc. There is a higher concentration of active ingredients in a serum, and that's why they are typically more expensive than moisturizers. I use RESVERATROL B E. It's a nighttime antioxidant concentrate which helps repair and prevent accumulated damage for improved radiance and density. Resveratrol helps sustain healthy longevity by neutralizing free radical damage and repairing the visible effects of age-accelerated skin. It has the highest concentration of pure Reservatol which is also known as the longevity molecule found in grape skins. My skin is definitely feeling firmer and really soft in the morning, while the general small lines have minimized. This product is to be used at night, and the light and elegant gel formula feels wonderful. SkinCeuticals products in general are fabulous.
MOISTURIZING
I use Midnight Recovery Concentrate. It's a beauty oil that really moisturizes my skin and it only takes two or three drops for my entire face. This is the best product I've ever used. It's made my skin glow and overall improved the condition of my skin... I would recommend this to anyone. This oil is really magical. I can tell a difference IN ONE NIGHT of using this. It shrinks my pores, minimizes fine lines, smells wonderful, and leaves you feeling so soft and fresh in the morning. I honestly never considered using an oil on my skin before, since my t-zone sometimes is shiny, but this product balances sebum production, reducing oiliness and making my skin less greasy. It helps in blemish-control too. The blend of lavender, rosemary, geranium and rose essential oils releases a pleasant calming scent that makes it a joy to use. Apply 3-4 drops on the clean palms of your hands and gently tap your cheeks, forehead, chin and neck.
LIPS
If you want soft and smooth lips you should put on lip balm. I love Lush Honey Trap lip balm and I use it every night. I keep this balm on my nightstand. I love the ingredients that go into it and the scent and texture of it. Its flavor is light and sweet.
To keep your face looking as youthful and glowing as possible, you need a proper skin care. When making decisions related to skin care and products, consider your skin type (Normal, Dry, Sensitive, Oily, Acne-prone, Combination). Also, keep in mind that your skin type might change according to your age or the period of the year.

Ciao miei Butterflaycats
Una bella pelle è il risultato di una somma di fattori diversi: alimentazione, idratazione, livello di stress, genetica, ormoni, salute, stile di vita, abitudini... La nostra pelle riflette i risultati di tutti questi fattori. Spesso sentiamo dire che la bellezza viene da dentro... beh, è vero. La nostra pelle è l'indicatore della nostra salute e delle nostre abitudini. Forse vi verrà da pensare che sia un po' troppo complicato... Non preoccupatevi, non lo è. Alcuni trucchi, un po' di costanza e i prodotti adatti vi aiuteranno a fare una grande differenza. Nel corso degli anni ho provato molti prodotti e metodi diversi, e la strategia che funziona per me è questa. Prima di tutto è necessario capire che tipo di pelle avete per scegliere i prodotti che funzionano meglio per voi. In questo periodo invernale la mia pelle è normale/secca e piuttosto sensibile.
Questa è la mia attuale routine di bellezza degli ultimi 4 mesi, e questi sono i passaggi:
STRUCCARSI
Prima di usare qualsiasi prodotto per rimuovere il make-up, mi lavo il viso con l'acqua tiepida, poi strofino delicatamente le ciglia con le dita per rimuovere parzialmente il mascara - a questo punto sembrerete un panda. ☺ Lo faccio per non danneggiare le ciglia, come invece accadrebbe strofinando gli occhi solo con lo struccante. Applico la soluzione micellare Bioderma sui miei dischetti di cotone per rimuovere il make-up. Il primo dischetto lo uso per rimuovere il trucco dagli occhi e il secondo per il viso. Alla fine lavo il viso di nuovo con l'acqua tiepida. Mi assicuro sempre che non sia rimasta alcuna traccia di trucco sul viso prima di detergerlo. La soluzione micellare per la rimozione del trucco Bioderma Sensibio H2O è indicata per le pelli sensibili... ed è davvero incredibile!!! Rimuove il make-up dalla pelle con estrema facilità, senza dover strofinare o tirare. Rimuove ogni traccia e non è per niente oleoso né appiccicoso. Ѐ proprio come pulirsi con l'acqua ed è inodore. Io lo sto usando da 3 anni, e vi posso assicurare che è il migliore che abbia mai provato (e ne ho provati tanti)! I miei occhi sono talmente sensibili che usando qualsiasi altro struccante mi bruciavano sempre (anche con i prodotti per occhi sensibili).
DETERGERE IL VISO
Io uso il detergente Aminogenesis Really Really Clean con il mio Clarisonic. Adoro questo detergente perché la sua consistenza è gelatinosa e non secca la pelle come altri detergenti per il viso. Ѐ perfetto per ogni tipo di pelle. Mi piace sentire la mia pelle così pulita e morbida dopo averlo utilizzato. Il mio dermatologo mi ha fatto scoprire questo prodotto e da allora lo uso tutti i giorni. I benefici di AminoGenesis Really Really Clean: lascia la pelle morbida e levigata; pulisce a fondo i pori; conferisce al viso una luce radiosa; lascia la pelle fresca e pulita; rimuove facilmente mascara ed altri make-up. Detergendo il viso si rimuovono lo sporco, il trucco e i batteri che possono causare lesioni della pelle. Mescolo un po' il mio detergente tra le mani e me lo applico sul viso bagnato e sul collo. Pulisco il viso con Clarisonic Aria per un minuto, poi risciacquo abbondantemente con acqua tiepida - attenzione a non sfregare troppo energicamente o troppo a lungo. Poi mi asciugo il viso con un asciugamano morbido e pulito (assicuratevi di avere un asciugamano solo per il viso in modo da evitare i batteri). Clarisonic stimola anche la circolazione del sangue, rendendo la pelle più giovane e donandole un colorito sano. Posso confermare che Clarisonic è una specie di Santo Graal per me. Ho notato una grande differenza da quando lo uso. Si tratta di un prodotto costoso, ma ne vale la pena!
TONICO
Dopo la pulizia, uso sempre il tonico su un dischetto di cotone e passo delicatamente il viso per bilanciare e idratare la pelle. Io uso Etude House Wonder Pore Freshner, che è davvero incredibile!!!! Si tratta di un prodotto per la cura dei pori che previene e riduce i pori dilatati, rassoda la pelle ed elimina i batteri nocivi che si formano sotto la pelle. I miei pori si sono ridotti almeno della metà da quando lo uso e fa davvero tutto quello che ho appena detto. Vantaggi: mantiene il ph da 4,5 a 1; dona un colorito omogeneo; mantiene l'elasticità dei pori; pulisce i pori in profondità; minimizza l'aspetto dei pori; previene la creazione di grandi quantità di sebo; idrata la pelle dentro e fuori.
CREMA CONTORNO OCCHI
La pelle intorno agli occhi è molto più sottile rispetto ad altre parti del nostro corpo, per questo è importante assicurarsi di utilizzare il prodotto giusto. La crema va applicata delicatamente intorno all'occhio perché la pelle è molto sensibile. Usate il dito anulare (perché è il dito con il tocco più leggero) e picchiettate la crema partendo dalla zona sotto l'occhio fino allo zigomo, agli angoli esterni e sotto le sopracciglia. Continuate a picchettare fino a farla assorbire, ma senza esercitare troppa pressione. Io uso la crema Midnight Recovery Eye. Aiuta a migliorare l'elasticità della pelle delicata intorno alla zona degli occhi ed è un valido aiuto contro le rughe sottili. La consistenza di questa crema è densa, perfetta per la notte e facilissima da applicare. La mattina scoprirete di avere uno sguardo più fresco, gli occhi più giovani, e meno gonfiori o rughette. È senza parabeni, senza profumo, senza oli minerali. Ho notato di avere un sguardo più luminoso alla mattina. I benefici sono evidenti: rende il mio contorno occhi più luminoso, incandescente, più sveglio e diminuisce davvero la comparsa delle occhiaie!
SERUM
Questo passaggio è importantissimo. Il siero agisce sui problemi specifici che la vostra normale crema idratante non riesce a risolvere. Di solito la gente pensa che i sieri vengano utilizzati da donne più anziane la cui preoccupazione principale sono le rughe, ma molti sieri sono più di trattamenti antirughe - molti hanno proprietà idratanti, rassodanti, illuminano la pelle, ne riducono le chiazze, controllano la produzione di sebo, e così via. In un siero c'è una maggiore concentrazione di principi attivi, ed è per questo che sono in genere più costosi delle creme idratanti. Io uso RESVERATROL B E. È un concentrato di antiossidanti per la notte che aiuta a riparare e prevenire i danni della pelle conferendole una maggiore luminosità e densità. Resveratrol aiuta a mantenere la pelle giovane e sana neutralizzando i danni dei radicali liberi e riparando gli effetti visibili dell'età che avanza. Ha un'altissima concentrazione di Reservatol puro, che è anche conosciuta come la molecola della longevità contenuta nella buccia dell'uva. La mia pelle è sicuramente più soda e veramente morbida al mattino, mentre i piccoli segni sono ridotti al minimo. Questo prodotto deve essere utilizzato durante la notte, e la leggera consistenza del gel è gradevolissima sulla pelle. I prodotti Skinceuticals in generale sono favolosi.
IDRATAZIONE
Io uso Midnight Recovery Concentrate. Si tratta di un olio di bellezza che idrata davvero la mia pelle e bastano giusto due o tre gocce per tutto il viso. Questo è il miglior prodotto che abbia mai usato. Ha reso la mia pelle luminosa e, in generale, ne ha migliorato la condizione... Lo consiglio a chiunque. Questo olio è davvero magico. Dopo un solo utilizzo ho notato la differenza... IN UNA NOTTE. Restringe i pori, riduce al minimo le linee sottili, profuma divinamente e lascia una sensazione di morbidezza e freschezza al mattino. Onestamente non avevo mai preso in considerazione prima l'utilizzo di un olio sulla mia pelle, visto che la mia zona T a volte è lucida, ma questo prodotto riequilibra la produzione di sebo, riducendo l'oleosità e rendendo la pelle meno grassa. Aiuta a tenere sotto controllo anche i brufoletti. La miscela di oli essenziali di lavanda, rosmarino, geranio e rosa rilascia un gradevole e rilassante profumo ed è un vero piacere da usare. Applicate 3-4 gocce sul palmo delle mani pulite e applicate delicatamente con una leggera pressione sulle guance, sulla fronte, sul mento e sul collo.
LABBRA
Se volete labbra morbide e lisce dovreste usare il balsamo per le labbra. Io adoro il Seguimi della Lush e lo uso ogni notte. Lo tengo sempre sul mio comodino. Adoro i suoi ingredienti, il suo profumo e la sua consistenza, e ha un gusto dolce e delicato.
Per mantenere il viso il più giovane e luminoso possibile è necessario il trattamento adatto alla propria pelle. Quando si prendono decisioni relative alla cura della pelle e ai prodotti da utilizzare, bisogna sempre prendere in considerazione il proprio tipo di pelle (normale, secca, sensibile, grassa, con tendenza acneica, mista). Inoltre ricordate che il vostro tipo di pelle potrebbe cambiare in base all'età o al periodo dell'anno.