Creme de Corps Soy Milk & Honey Whipped Body Butter REVIEW!
How to moisturize skin in winter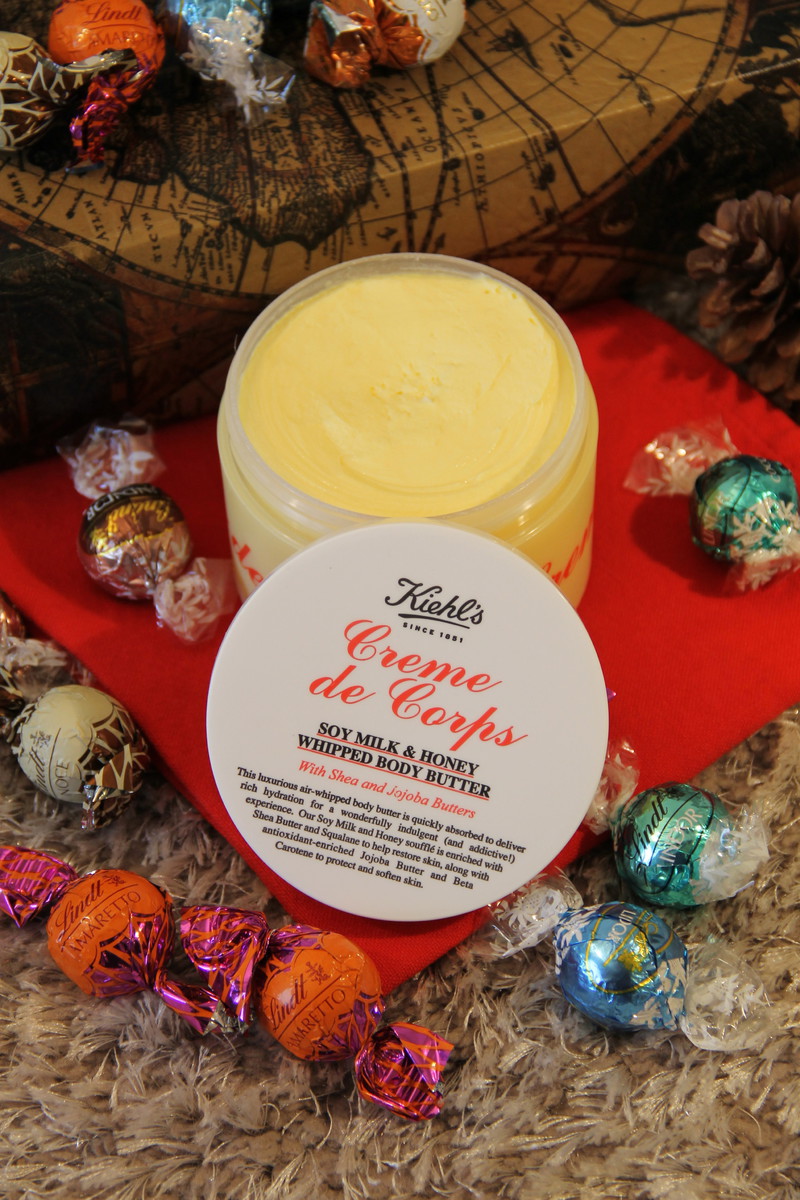 Hi my Butterflycats
This cold weather keeps up... and that's why I decided to write this post. We all know that in the cold season our skin becomes drier and needs to be adequately hydrated. Often, during these cold months, a moisturizing lotion for the body is not enough, since our skin requires more hydration. Today there are various products on the market, with different textures, to moisturize the skin. So there are: mists, lotions, creams, body butters, oils, body conditioners... Obviously you can get confused when you have to choose the right product! We want a product that moisturizes, is not too greasy or sticky, absorbs quickly, which makes our skin smooth as silk, soft, that smells good, gentle on our skin ... We actually think all of that when we buy a product : - / In winter my skin requires more care and more moisture than usual... so I prefer to use the butters / body creams, but on the other side I'm careful that they are light / medium texture, soft and absorb quickly. When speaking of body butters it's not easy to find all these features because often their texture is very dense and absorbs very slowly .. However I managed to find a great product that has all the features I was looking for.
It's called CREME DE CORPS SOY MILK & HONEY WHIPPED BODY BUTTER of Kiehl's! The biggest plus is its texture: the richness of body butter with a light whipped, fluffy consistency. It's so airy and creamy, and it get quickly absorbed without resulting sticky or greasy. I apply it every night after showering. It feels really good when massaged into the skin. It's very hydrating, good for cold and dry winters, and it's a long lasting moisture. It melts into the skin and keeps you hydrated all day. I have a sensitive skin and this cream never irritates it. It really made my skin so silky soft. I love this non-greasy feeling. This product makes my skin feel smooth and its smell is really good. I think it smells like cocoa butter, or a day at the beach. The fragrance is sweet and honey and Shea is like a summer breeze! Like I said, I really like the smell but I do wish it had a little lighter fragrance. Oh, by the way the scent really lingers for a long time! It's also paraben and silicon free. The bad thing is a high price (36 euros) but it lasts for a while!
What Kiehl's says:
Creme de Corps Soy Milk & Honey Whipped Body Butter: A soy milk and honey whipped body butter. Luxuriously scented Light on the skin, but rich in 24-hour hydration Decadently air-whipped for instant penetration to restore, protect, and soften skin Quickly absorbed to deliver deep moisturization No parabens, glycols or silicones.
How to Apply:

Apply soy milk and honey body butter on slightly damp skin
-For best results, a body moisturizer should be used on lightly towel-dried skin after bathing or showering to help seal in the surface moisture.
Ingredients:
Shea Butter is the natural fat obtained from the fruit of the African Karate tree and is widely used in lotions and cleansing products for its hydrating properties. It protects skin from dehydration, restores skin's suppleness and improves the appearance of dry skin. A signature Kiehl's ingredient, Squalane is a botanical lipid that is similar in molecular structure to natural skin lipids. It has an exceptional affinity to skin, and because it's easily absorbed, Squalane helps restore skin's natural moisture balance to keep it extra soft and supple.
Jojoba Oil is extracted from the beanlike seeds of the desert shrub Simondsia Chinensis and has been traditionally used by both Mexicans and Native Americans for skin care purpose. It reduces transepidermal water loss without completely blocking the transportation of water vapor and gasses, providing suppleness and softness. It is nurturing for the skin and helps to restore skin's natural lipid barrier.
Beta-Carotene is a naturally derived antioxidant predominantly found in many orange/red vegetables such as carrots. It is used in Vitamin A production and gives an orange tint when used in skin care products.

Ciao miei Butterflycats
Questo freddo continua…e proprio per questo motivo ho voluto scrivere questo post. Sappiamo tutti che con il freddo la nostra pelle diventa più secca e ha bisogno di essere idratata adeguatamente. Spesso durante questi mesi freddi una lozione idratante per il corpo non è sufficiente e la nostra pelle richiede una maggiore idratazione. Oggi sul mercato ci sono vari prodotti, con texture diverse, per idratare la pelle. Ci sono mist, lozioni, creme, burro per il corpo, oli, balsami…Ovviamente ci si può perdere quando è il momento di scegliere il prodotto giusto! Vogliamo un prodotto che idrati, non sia troppo grasso o appiccicoso, che si assorba velocemente, che renda la nostra pelle vellutata come la seta, morbida e profumata, che sia delicato con la nostra pelle…Chi lo avrebbe detto che pensiamo a tutte queste cose quando compriamo un prodotto :-/ Durante il periodo invernale la mia pelle richiede più cura e più idratazione del solito…quindi preferisco usare i burri/creme per il corpo, ma allo stesso tempo sto sempre attenta che abbiano una consistenza leggera/media e che si assorbano velocemente. Quando si parla dei burri per il corpo non è semplice trovare tutte queste caratteristiche perché spesso la loro consistenza è molto corposa, si assorbono molto lentamente… Comunque sono riuscita a trovare un prodotto ottimo che ha tutte le caratteristiche che cerco.
Si chiama CREME DE CORPS SOY MILK & HONEY WHIPPED BODY BUTTER della Kiehl's! La cosa migliore è la sua consistenza: ha la ricchezza di un burro per il corpo, ma la consistenza è tipo "panna montata", davvero soffice. La texture è molto ariosa e si assorbe rapidamente senza essere appiccicosa o grassa. Io lo applico ogni sera dopo la doccia. Dà una bella sensazione quando viene massaggiato sulla pelle. È molto idratante, ottimo per i periodi invernali, ed idrata a lungo. La texture si fonde con la pelle e la mantiene idratata tutto il giorno. Ho la pelle sensibile e questa crema non irrita assolutamente. Ha reso la mia pelle morbida come la seta. Mi piace anche la sensazione non troppo grassa. Questo prodotto fa sentire la mia pelle liscia e il profumo è davvero buono. Penso che profumi di burro cacao, o come una giornata in spiaggia. Il profumo è dolce, il miele e Shea sono come una brezza estiva! Come ho detto mi piace molto, ma mi sarebbe piaciuto che il profumo fosse un po' più leggero. Oh, il profumo rimane davvero per molto tempo! Inoltre è senza parabeni e senza siliconi. La cosa meno bella è il prezzo alto (36 euro), ma comunque vi dura molto! Sicuramente vi consiglierei questo prodotto!
Cosa dice Kiehl's:
Creme de Corps Soy Milk & Honey Whipped Body Butter: Il latte di soia e miele frustati per ottenere il burro per il corpo. Lussuosamente profumato Leggero sulla pelle, ma ricco perché idrata per 24 ore Texture soffice che permette una penetrazione immediata per ripristinare, proteggere e ammorbidire la pelle Si assorbe rapidamente per fornire idratazione profonda Senza parabeni, glicoli o siliconi
Utilizzo:
Applicare sul corpo, dopo il bagno o la doccia, o ogni volta che lo si ritiene necessario per aiutare a mantenere l'idratazione. Raccomandiamo di applicare la crema sulla pelle umida per avere un migliore risultato finale
Ingredienti:
Burro di Karitè è il grasso naturale ottenuto dal frutto della pianta africana Karate ed è ampiamente usato in lozioni e prodotti di pulizia della pelle per le sue proprietà idratanti. Protegge la pelle dalla disidratazione, ne ripristina l'elasticità e migliora l'aspetto della pelle secca. Ingrediente principale di Kiehl's, Squalane è un lipide botanico che è simile nella struttura molecolare ai lipidi naturali della pelle. Ha un'affinità eccezionale con la pelle e, poiché viene assorbito facilmente, Squalane aiuta a ripristinare l'equilibrio naturale dell'umidità della pelle per mantenerla più morbida ed elastica.
Burro di Jojoba è ricavato dall'olio di Jojoba, una cera liquida prodotta dai semi di Jojoba, un arbusto (Simondsia Chinensis) tipico del deserto utilizzato dai messicani e dai nativi d'America per la cura della pelle. Dona morbidezza ed elasticità alla pelle.
Betacarotene è un antiossidante naturale che si trova principalmente in molte verdure dal colore arancione/rosso, ad esempio nelle carote. È utilizzato come precursore per la produzione di vitamina A e può dare la sua tipica colorazione arancione ai prodotti per il trattamento della pelle.